Click Here to Download a Prospective Member Form
Please complete and email to rclburgsec@charter.net or US Mail to PO Box 563, Lawrenceburg, TN 38464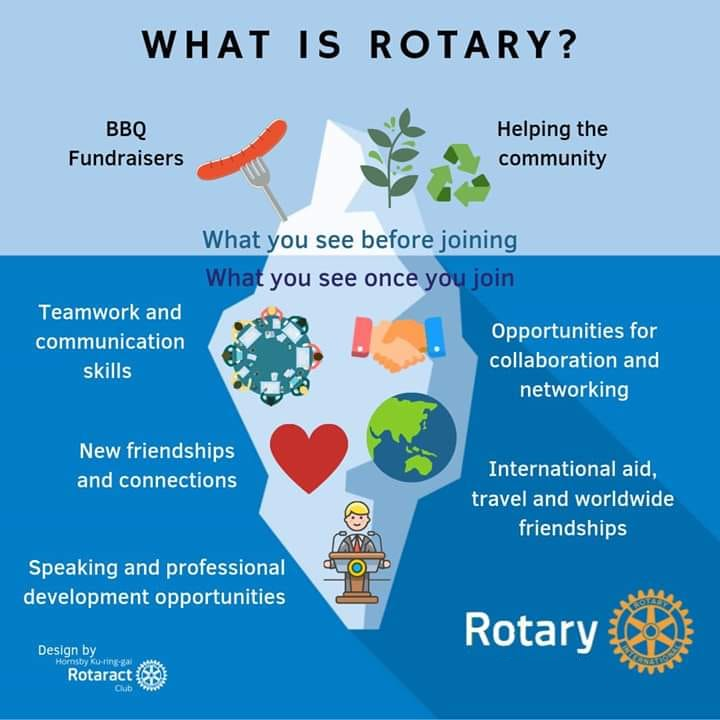 Thank you for your interest in becoming a Rotarian. Rotary International is an association of individual clubs, with each club operating autonomously. Membership is extremely important to us, and we are always eager to hear from individuals interested in our mission and in joining a Rotary club. The RI universal premise is that the membership of each club constitutes an accurate representation of the business and professional population within the community served.
Membership in a Rotary club requires available business or professional classification opportunities as well as an invitation and sponsorship by a member of the club. Sometimes an individual cannot be invited or sponsored for membership.
Rotarians are business and professional leaders who take an active role in their communities while greatly enriching their personal and professional lives. A Rotary club contains a diverse group of professional leaders from the community that the club serves.
Through Rotary International's service programs, a Rotary club can have a significant effect on the quality of life in its community. Rotary Foundation programs offer opportunities to form international partnerships that help people in need worldwide. Some 1.2 million Rotarians in 34,000 clubs in more than 200 countries and geographic regions make significant contributions to the quality of life at home and around the globe.
To find out more about Rotary's rich history and the organization's mission and structure, see our Contact Form or contact a Rotarian directly by visiting our Officers and Directors or Contact pages.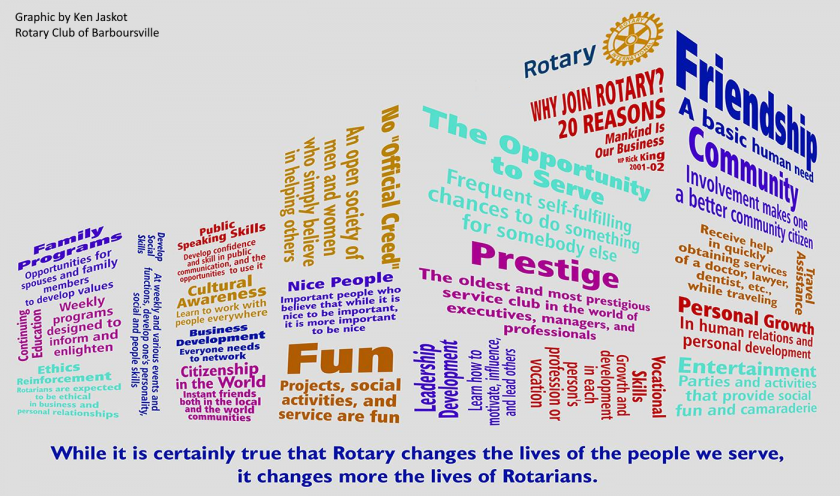 ROTARY CLUB OF LAWRENCEBURG, TENNESSEE (USA)
INFORMATION FOR PROSPECTIVE MEMBERS
Rotary Club of Lawrenceburg was chartered in 1947 and is a member of
The Rotary Club of Lawrenceburg was chartered in 1947 and is a member of Rotary International. We serve Lawrence County, Tennessee with a membership of approximately 100 local Rotarians. Lawrenceburg Rotary is an active club that endeavors to have fun while serving our community through various projects and activities. Our motto is "Service Above Self". We are a member of Rotary International which consists of over 1.2 Million business and professional people who are members of local Rotary Clubs that operate autonomously in over 165 countries.

WEEKLY MEETINGS AND OTHER IMPORTANT INFORMATION
Meeting Place: Beasley Hall at Lawrenceburg Rotary Park
Meeting Time: Every Friday, 12:00 Noon - 1:00 PM (Lunch is Served)
Club Dues: $50.00 Per Month (Including Buffet Luncheon)
Website: www.lawrenceburgtnrotary.org Email: rclburgsec@charter.net
MEMBERSHIP IN ROTARY IS BY INVITATION ONLY
To qualify for membership in the Lawrenceburg Rotary Club, a prospective member must:
1. Be a current or retired proprietor, manager, or professional in a local business, religious, or public service organization; or have demonstrated a commitment to community service through active participation in local community service programs. Retired persons who move to Lawrence County may be considered for membership if they have fulfilled this requirement during their working life.
2. Be an adult of good character with a good reputation in their business and community who is sponsored by a member in good standing of the Lawrenceburg Rotary Club.
3. Be ready, willing and able to fulfill the financial obligations of our club including timely payment of club dues. Dues may be paid on a monthly, quarterly, or annual basis and must be up to date on June 30th of each year.
4. Be ready, willing and able to fulfill club and RI attendance requirements: This can be done in several ways including attending our weekly luncheon meetings and/or actively participating in club sponsored events.
5. Be ready, willing and able to Enjoy Rotary through active participation in club projects and activities.
SUMMARY OF LAWRENCEBURG ROTARY CLUB PROJECTS
Please browse the club website for a complete description of club projects.
www.lawrenceburgtnrotary.org
1. Maintenance and Improvement of Lawrenceburg's Rotary Park
2. Sponsorship and Management of the award winning Middle Tennessee District Fair
3. Sponsorship and Production of the Rumble at the Crossroads Truck and Tractor Pull
4. Sponsorship of the Scramble for Humanity Golf Tournament to benefit a local charity
5. Support for various community projects throughout the year
6. Scholarships and Recognition for deserving local residents
7. Sponsorship and Support for Interact Clubs in the county's three high schools
8. Management of an International Service Project in Honduras
9. Support for RI Projects including Polio Eradication through support of The Rotary Foundation
10. Special projects which are implemented on a year by year basis