Local Humanitarian Projects
For as long as anyone can remember, Lawrenceburg Rotary has conducted a spring fund raising campaign for organizations including the American Heart Association and other worthy groups. In 2006-07, the club elected to change its emphasis toward local organizations with specific beneficiaries to be determined on a year by year basis. In recent years, assistance has been provided for:
Christmas Baskets and Gifts for Underprivileged Children and Seniors
Assistance for Victims of Major Disasters in the USA
Primary Sponsor of Lawrence County Schools Heroes Banqu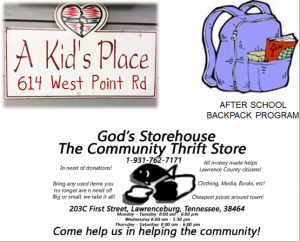 et
Food Pantries at Lawrence County High Schools
Ingram Sowell After School Backpack Program
Santa for Seniors
A Kid's Place
Loaves and Fishes Pantry at First UMC
God's Storehouse
The Shelter, Inc.
Little League Baseball
Special Olympics

Funding requests are evaluated by the Human Development Committee with input from the Board of Directors and approved line items are included in the club budget. Adhoc contributions are also approved on a case by case basis.